About Us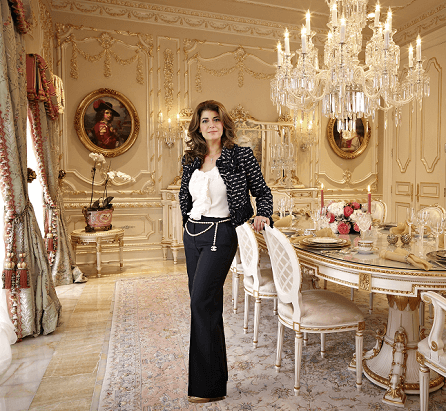 Haleh Design works in greater Washington, DC, Beverly Hills and San Diego, California as well as worldwide with an elite international clientele delivering 20,000 to 55,000 square feet projects with a Classical and timeless sensibility that embraces glamour, comfort, and a sense of welcome. In estates ranging from 7 to 100 million dollars, authenticity of vision is consistent throughout, from conception and design to the selection of accessories. Attention to nuance finds expression in each detail; every small element is essential to the pleasing whole, from the scale of a foyer chandelier to the trim on a decorative pillow.
Haleh Design provides turnkey services focused on precise effort and fine detail. Haleh assembles and directs a team of interior designers, architects, builders, and engineers expert in programming, planning, building, and design that is chosen specifically for each project. An extensive network of experts and artisans further streamlines the design, renovation, and construction process.
Haleh's home is her design laboratory where she continues to evolve her esthetic. She collaborates with and represents such renowned manufacturers as Columbo Mobili, Armando Rho, Habersham, BERGAMO, Rubelli Venezia, Luigi Bevilalacqua, Saint Louis, Puiforcat, Lalique, L'Objet, Herend, Moser, Maison Takuya and Haviland who appreciate the estate's scale as the ideal showcase for their luxurious designs. Here she invites clients to experience and visualize firsthand the scale, proportion, craftsmanship, materials, and detail that define her approach.
Whether designing the façade of a home, determining the spatial use of an interior, specifying materials and systems for new construction, defining furnishings, or adding distinctive decorative elements, Haleh Design envisions comprehensive projects and advances them to completion on all fronts. Great design, whether in new construction or renovation, demands that creativity, oversight, and technology work together. With an eye toward creating harmonious and comfortable environments, Haleh works closely with experienced Feng Shui practitioners. Her accomplishment at combining these forces in innovative ways is evidenced by the many millions of dollars of the built environment for which she is responsible.
Haleh Design works in partnership with Niroo Masterpieces to conceptualize new quality estates. Haleh Design is a dealer and to-the-trade resource for high-end French, Italian, and American furnishings and accessories.