PROFILE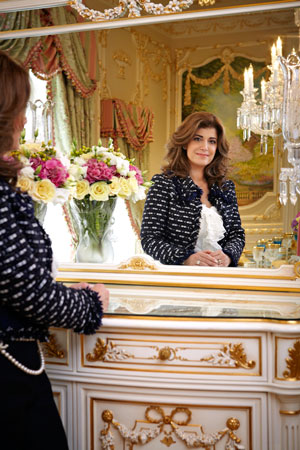 Haleh Alemzadeh Niroo draws inspiration from the culture and elegance of European living, specializing in baronial rooms steeped in history without ties to any one period. Grounded in an understanding of Classicism, her projects are realized with a focus on functionality, comfort, and sumptuous materials. With a gifted sense of scale and proportion, Haleh creates interiors with timeless architectural details. Working with highly skilled artisans, she fashions dramatic spaces that do not live in the past but interpret it for modern living.
During her twenty-year career as an architectural designer she has become a trusted voice on creating grand interior and exterior spaces for exacting clients worldwide. With an intuitive feel for proportion and scale and a refined sense of lavish finishes and virtuosity in old-world detailing, she creates comprehensive and considered programs for magnificent homes that speak of restraint and polished elegance.
Grounded and connected to the finest and most beautiful things in the world, Haleh was born to the world of design. The daughter of a textile executive and innovator who advanced Iran's reputation for high quality silks and upholstery fabrics, her life has been shaped by her early embrace and consistent devotion to the discipline. Her sensitivity for the exquisite and timeless was shaped and enhanced by the foundation of a traditional education in Switzerland and France, extensive international travel, formal design study, and firsthand knowledge of and experience with all elements of business management, finance, construction, and energy conservation.
Her work has been featured in Luxury Home Quarterly, Bethesda Magazine, DC Magazine, Luxe, Home & Design, Washington Life, Veranda, Traditional Home, Architectural Digest, and The Robb Report Home, among others, and her projects are showcased in a number of international design books. Her work has been spotlighted by the various international furniture companies with which she collaborates in their print advertising campaigns.
Haleh Design supports over 15 charities, including Children's National Medical Center and St. Jude Children's Research Hospitals, donating time and funds to raise awareness around those issues challenging humanity. A percentage of all HalehBoutique.com sales benefits these organizations, with a different cause identified each fiscal quarter.